So, you've decided to venture into the tantalizing realm of smoked meats. Welcome aboard, my fellow flavor explorer! But wait, before you embark on this gastronomic journey, you've stumbled upon the age-old conundrum: "Which smoker should I get?" Ah, the offset smoker, a contraption as mysterious as the dark side of the moon, and almost as captivating. Let's unravel its smoky secrets.
What on Earth is an Offset Smoker?
Offset Smokers: Also known as stick burners or horizontal smokers, consist of a large chamber for the food and a smaller firebox attached to one side. Heat and smoke from the firebox flow into the cooking chamber, where they cook and flavor the food. The Offset Smoker is probably the most popular among the different types of smokers (see here for a full list of the different types of smokers).
Imagine, if you will, a metal drum lying on its side, with a smaller box attached to one end. No, it's not a relic from a bygone era or an avant-garde art piece. That, my friend, is the classic design of an offset smoker. The main drum is where your meat gets that golden tan, absorbing the smoky goodness. Meanwhile, that little box, affectionately known as the "firebox," is where the magic happens. Fire, wood, and smoke – the holy trinity of flavors.
All offset smokers use smoke for cooking food. Smokers can operate on charcoal, propan, wood, or electricity. Propan and electric smokers are much easier to use and require less attention. However, smokers that run on charcoal or wood give the food a more authentic flavor.
Smokers typically follow the same design. In the lower chamber of the smoker, wood is placed, while the upper chamber houses grates for food (often, the chamber arrangement is not vertical but horizontal).
Main Types of Offset Smokers for Your Backyard
Offset smokers, often revered by BBQ enthusiasts for their traditional approach to smoking, come in various styles and designs. Here's a breakdown of the different types of offset smokers:
Traditional Offset Smoker: This is the most common design. It features a large cooking chamber with a smaller firebox attached to one side. The heat and smoke generated in the firebox travel into the cooking chamber, where they smoke and cook the food.
Reverse Flow Offset Smoker: In this design, there's a metal plate that directs the heat from the firebox to the far end of the cooking chamber. Then, the heat and smoke return to the firebox side, moving under the plate, to exit through the chimney. This design promotes more even heat distribution within the cooking chamber.
Vertical Offset Smoker: Unlike the horizontal design of traditional and reverse flow smokers, vertical offset smokers stand tall. The firebox is still offset, but it's below the cooking chamber. Heat and smoke rise through multiple racks in the vertical chamber, making it great for smoking a lot of food at once.
Hybrid Offset Smoker: A hybrid smoker might combine the features of a grill and an offset smoker, allowing for both grilling and smoking in one unit. Some models even incorporate features for roasting, baking, or frying.
| Type | Approximate Price Range | Ease of Use | The Best Example |
| --- | --- | --- | --- |
| Traditional Offset Smoker | $200 – $1,500 | Moderate | |
| Reverse Flow Offset Smoker | $300 – $2,000 | Moderate to Easy (due to even heat distribution) | Oklahoma Joe's Highland Reverse Flow Smoker |
| Vertical Offset Smoker | $150 – $1,000 | Easy (due to straightforward design) | Dyna-Glo Signature Series DGSS1382VCS-D |
| Hybrid Offset Smoker | $300 – $2,000 | Easy (versatility can simplify the process) | |
When choosing an offset smoker, it's essential to consider the build quality, ventilation, size, and design features that best suit your needs and preferences. Each type has its own advantages, so the right choice often depends on individual requirements and the kind of BBQ experience one is looking to achieve.
Offset smokers are a popular item on Amazon. We've selected for you the most sought-after models in their respective leagues. Take a look and choose while they're still at hot prices!
Traditional Offset Smoker: The Best in The League
Best Choice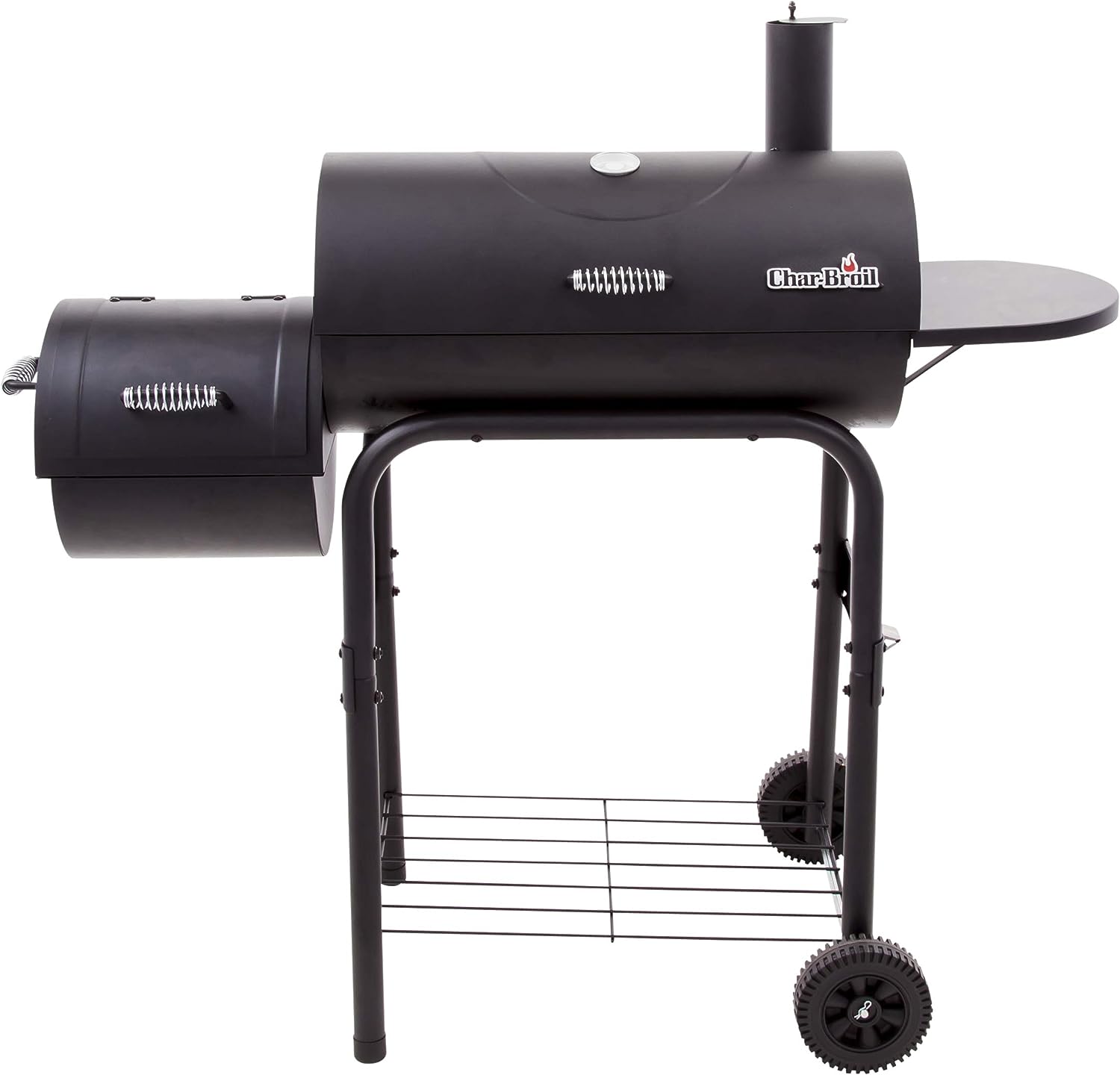 Char-Broil 12201570-A1 American Gourmet Offset Smoker
Combination Offset Smoker, BBQ & Charcoal Grill
The Offset Smoker from Char-Broil will get you smoking and cooking low and slow. It features a vertical pipe smokestack with adjustable dampers, a temperature gauge and an offset firebox to stoke the fire without losing heat.
Check Price
Reverse Flow Offset Smoker: Absolute Choice of Buyers
Best Choice
Oklahoma Joe's Highland Reverse Flow Smoker
900 total Square inch cooking surface, Heavy-gauge all-steel construction.
Whether you're a seasoned pitmaster or just starting on your smoking journey, this smoker offers a perfect blend of versatility, durability, and exceptional performance. It's more than just a smoker; it's an experience.
Check Price
Vertical Offset Smoker: Pit Master Right Solution
Best Choice
Dyna-Glo Signature Series DGSS1382VCS-D Heavy-Duty Vertical Offset Charcoal Smoker & Grill
The best price for Vertical Offset Smoker
Whether you're a seasoned pitmaster or just starting on your smoking journey, this smoker offers a perfect blend of versatility, durability, and exceptional performance. It's more than just a smoker; it's an experience.
Check Price
Hybrid Offset BBQ Smoker and Charcoal Grill: Everything Everywhere All at Once
Best Choice
Pit Boss PB1230SP Wood Pellet and Gas Combo Grill
8-in-1 versatility to grill, smoke, roast, bake, braise, barbecue, char-grill, and sear
Premium features of the Sportsman Wood Pellet and Gas Combo include a more than 1,200 sq.in. cooking space, an innovative slide plate flame broiler with an easy-access handle on the pellet side.
Check Price
Choosing the Right Offset Smoker for Every Budget: A Matter of Heart (and Meat)
When it comes to selecting your trusty smoking companion, it's a bit like choosing a dance partner. You want compatibility, reliability, and a bit of flair. Here's what to look for:
Size Matters. Got a backyard that rivals a football field or a balcony that's… well, more on the cozy side? Choose an offset smoker that fits your space and your appetite. Remember, bigger isn't always better – unless you're hosting a neighborhood barbecue every weekend.
Material World. Not all smokers are created equal. Seek out heavy-duty steel construction. It retains heat better and stands up to the elements. You wouldn't wear a paper hat in the rain, would you?
Air Flow Control. Good ventilation is key. Like a fine wine needs to breathe, so does your fire. Adjustable vents allow you to control the heat and smoke levels, ensuring your brisket isn't reminiscent of charcoal.
Budgeting for Flavor. From the Rolls Royce to the trusty old hatchback of smokers, there's something for every pocket. But remember, a higher price tag doesn't always guarantee a better smoke. Do your research, read reviews, and maybe barter a little.
Here are some of the leading brands known for producing high-quality offset smokers:
Oklahoma Joe's: Renowned for their durable and well-crafted smokers. The "Highland" and "Longhorn" are popular models from this brand.
Yoder Smokers: This brand is known for its heavy-duty smokers, often used by both backyard enthusiasts and competition teams.
Pitmaker: They offer a range of custom and high-quality BBQ equipment, including some top-notch offset smokers.
Horizon Smokers: Known for their classic 20″ RD Special Marshal smokers and other heavy-duty models.
Lang BBQ Smokers: A popular brand, especially for their reverse flow offset smokers.
Brinkmann: While they offer a range of BBQ products, their offset smokers have garnered attention from many BBQ lovers.
Char-Griller: Their offset smokers are often more affordable and are great for those just starting with smoking.
Pit Boss: Known for a range of grills and smokers, their offset models are quite popular among enthusiasts.
Old Country BBQ Pits: They offer a range of smokers, with their offset models being well-regarded for quality and performance.
Meadow Creek: Their tank smokers, which are a variant of the offset design, are quite popular.
Why Offset? The Unspoken Benefits
Beyond the obvious smoking capabilities, the offset smoker has a few tricks up its chimney:
Versatility: It can double up as a grill. Just throw some coals in the main chamber, and you're good to go.
Flavor: The indirect heat means your meat gets a slow, even smoke. It's like a spa day for your steak.
Adventure: Experiment with different woods for varied flavors. Mesquite for a touch of the wild west or applewood for a hint of orchard freshness.
Wood produces smoke and imparts a "smoky flavor" to your dish. The type of wood you choose will have a direct impact on the final taste. I'll discuss which wood is best for smoking in a separate article. Even beginner BBQ enthusiasts should know that some types of wood are better suited for smoking than others.
Here's a comparative table that highlights the features of an offset smoker against other types of smokers:
| Feature/Type | Offset Smoker | Vertical Water Smoker | Box/Cabinet Smoker | Drum Smoker | Pellet Smoker | Electric Smoker | Kamado Smoker | Cold Smoker |
| --- | --- | --- | --- | --- | --- | --- | --- | --- |
| Fuel Source | Wood/Charcoal | Charcoal/Wood | Various (incl. electric, gas, charcoal) | Charcoal | Wood Pellets | Electricity | Charcoal/Wood | Various |
| Flavor Authenticity | High (traditional smoky flavor) | Medium-High | Medium-High | High | High | Medium | High | Medium |
| Capacity | High (good for large cuts) | Medium | High | Medium | Medium-High | Medium | Medium | Low-Medium |
| Temperature Control | Manual (requires experience) | Manual | Manual/Automatic | Manual | Automatic | Automatic | Manual | Manual |
| Versatility | High (grilling & smoking) | Medium | Medium | Medium | High (can also grill & bake) | Low | High (grilling & baking) | Low |
| Ease of Use | Medium (steep learning curve) | Medium | Medium-High | Medium | High | High | Medium | Medium-High |
| Construction | Durable (often thick steel) | Varies | Varies | Simple & Durable | Advanced & Durable | Varies | Durable (ceramic) | Varies |
| Portability | Low (heavy & large) | Medium-High | Medium | High | Medium | Medium | Low (heavy) | High |
| Price Range | Medium-High | Low-Medium | Medium-High | Low-Medium | High | Low-Medium | High | Low-Medium |
This table provides a broad overview of the features and characteristics of different smokers in comparison to the offset smoker. It's important to note that individual models within each type can vary, so it's always a good idea to research specific models when making a decision.
Main Advantages of an Offset Smoker
Here are the main advantages of an offset smoker compared to other types of smokers:
Authentic Smoky Flavor: Offset smokers tend to produce a more traditional and authentic smoky flavor, especially when using hardwoods. The design allows for natural airflow, which enhances the smoke infusion into the food.
Versatility: Offset smokers can be used for both direct grilling (over the flames in the firebox) and indirect smoking (in the main chamber). This versatility allows for a range of cooking techniques.
Capacity: The horizontal design of many offset smokers provides ample space, making them suitable for smoking large cuts of meat or multiple items simultaneously.
Temperature Control: With experience, users can achieve precise temperature control by adjusting the airflow and the amount of fuel. This allows for a more hands-on smoking experience.
Durable Construction: Many offset smokers are made of thick steel, which offers durability and efficient heat retention.
Natural Heat Source: Offset smokers use charcoal or wood as fuel, which many believe imparts a superior flavor compared to electric or gas sources.
Customization: Many offset smoker enthusiasts modify and customize their units to improve airflow, temperature control, and overall performance.
While offset smokers have these advantages, they also come with a steeper learning curve and might require more attention during the smoking process compared to some other types. However, for those who value a traditional smoking experience and flavor, offset smokers are often the preferred choice.
FAQ: Mastering BBQ Smokers for the Perfect Backyard Cookout
Q: What should I look for in a BBQ smoker if I'm a beginner? A: Look for a BBQ smoker that is a workhorse but still user-friendly. Mid-sized offset smokers like the Oklahoma Joe are great starters. They offer adequate cooking space, an offset firebox, and a thermometer to help you learn temperature control. Models like Yoder Smokers provide outstanding performance and are built with heavy-gauge steel for durability.
Q: How does the firebox affect the smoking process? A: The firebox is where you load your fuel, whether it's coal, wood, or charcoal. It's crucial for maintaining the low and slow temperatures needed for perfect brisket. The design, like the vertical smoker or reverse flow systems, impacts the evenness of the smoke flavor and the overall temp control.
Q: Can I get a quality BBQ smoker without breaking the bank? A: Absolutely. There are options for every budget. Old Country BBQ Pits and Oklahoma Joe offer value for money with sturdy construction and good temperature control. Look for features like a thick steel firebox, heavy-duty grates, and a reliable temperature gauge.
Q: What makes Yoder and Old Country smokers stand out? A: Yoder smokers and Old Country BBQ pits are known for their craftsmanship and heavy-duty steel construction. Yoder's loaded Wichita and the Old Country Brazos are praised for their fabrication quality and consistent smoke flavor. These smokers are made to order, reflecting a dedication to BBQ enthusiast-level quality.
Q: I'm interested in grilling and smoking. What type of smoker should I consider? A: A versatile option is the vertical smoker or a cabinet-style smoker with a propane log starter. These often come with multiple racks and trays for both grilling and smoking. For those who enjoy the traditional approach, a stick burner like the Yoder Durango provides a hands-on experience for smoking meats.
Q: How important is insulation in a smoker? A: Insulation is key for maintaining a consistent temperature, especially if you're cooking in colder climates. Insulated smokers or those with thick steel like the Meadow Creek line can elevate your cooking experience by ensuring better heat retention.
Q: What is the benefit of a reverse flow smoker like the Old Country Brazos? A: Reverse flow smokers like the Old Country Brazos smoker offer even heat distribution across the cooking chamber, resulting in more flavorful and evenly cooked meat. They also tend to have a more predictable heat pattern, which can be a boon for smoking newcomers.
Q: Is a thermometer necessary for a BBQ smoker? A: Yes, a reliable thermometer is crucial. It allows you to monitor the cooking chamber's temperature without opening the lid. Look for smokers with high-quality gauges like Tel-Tru, which are known for their accuracy.
Q: Can I customize my smoker to better fit my backyard BBQ style? A: Many smokers, such as those from Yoder, can be customized with additional features like a counterweight for the lid or a larger chamber length. These modifications can help you tailor your smoker to your specific BBQ style and needs.
Q: How long is the lead time for a made-to-order smoker like a Yoder? A: The lead time can vary depending on the model and customization. It's best to check with the manufacturer, but typically, there can be a wait of several weeks to a few months for made-to-order units due to their detailed craftsmanship.
Q: What is the advantage of buying a smoker like the Yoder Wichita over other types? A: The Yoder Wichita, a classic mid-sized offset smoker, offers a balance between size and performance. It's crafted with heavy-gauge steel for longevity and has a coal grate that can handle the chunk wood or lump charcoal needed for that authentic smoke flavor.
Q: Does the length of the cooking chamber in offset smokers like the Yoder Kingman make a difference? A: Yes, the chamber length can affect the cooking area and how heat is distributed. Longer chambers like those found in the Yoder Kingman or Old Country Stockton allow for more racks of ribs or multiple briskets, making them ideal for large gatherings or backyard BBQ competitions.
Q: What kind of smoker should I get if I'm serious about smoking meats like Aaron Franklin? A: If you aspire to smoke meat like BBQ legend Aaron Franklin, consider investing in a smoker known for excellent heat management and flavor production, like those from Franklin Barbecue or high-end Yoder smokers. These are typically heavy-duty and may feature a reverse flow design for consistent cooking.
Q: Are there smokers that offer free delivery? A: Some manufacturers and retailers offer free delivery for their smokers and grills. This is often dependent on the purchase amount or promotional offers at the time of buying. It's always a good idea to ask about delivery options and any associated costs when purchasing
So, whether you're a seasoned pitmaster or a newbie just dipping your toes in the smoky waters, the offset smoker is your ticket to flavor town. Light that fire, add that wood, and let the adventure begin. Happy smoking!